So I think I have become addicted to blogging. I find myself wanting to blog about everything that happens to me! I have to wait til the next day to blog or else I'd be blogging multiple times a day!
Anyways...

Yesterday afternoon I let my 2yr old son draw. He is such an artistic little guy, it's hard for me to tell him NO when he asked to do something creative.

I put him in a chair and pushed him over to the center counter in the kitchen. I let him dry there so if he misses the paper it will wipe off easily. (

Take note mommies

) Which is better than him drawing on the walls like he did with a PERMANENT MARKER!



(QUICK TIP: Use toothpaste and a toothbrush to scrub permanent marker off of walls.)

It takes a lot of scrubbing but it will come off and is well worth it!

I then grabbed the bucket of markers and some paper and gave them to him. He immediately grabbed the color of choice and drew away.

I was in the midst of my never ending laundry while Luke was on his "

artistic adventure

" so I left him for a minute and walked into the garage to switch the clothes from the washer to the dryer.

I walked back into the house to find.... my son was

completely naked

! Not only was he naked but he had colored all over himself!

He colored his eyelids pink for eyeshadow...his lips green for lipstick... his hands,feet,legs,arms and stomach were covered and then I looked down and his "

PRIVATE AREA

" was completely colored

RED

! The whole

THING

!

I quickly grabbed my camera ( Indeed I will show his wife one day) and snapped a picture of my little artist. It was hilarious!


I can't show the picture because my little guy is butt naked!

___________________________________________________________________



Cake Box Cookies



Ingredients:
2 eggs
1 package(18.25 ounce) white cake mix
1/2 cup veggie oil

Directions:
1. Mix together cake mix, eggs and oil in a large bowl.
2. Make little balls with the dough and place on cookie sheet.
3. Bake at 350 degrees for 4-10 minutes.

You can even try different kinds of cake mix!

YUMMY

!

___________________________________________________________________



SPRING TREND!



Nothing makes a girl more put together than a nice manicure. This Spring, look for bold tones and bright colors when selecting your new nail polish.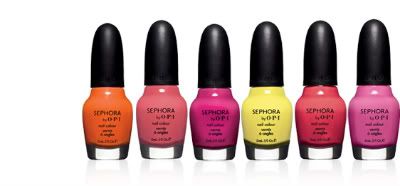 Also a celeb trend this spring is metallic nail polish! Gold and silver are a must!