SO here I am once again blogging about how my

SON

uses everything as make-up! He watches me put it on every morning so he is getting it from ME!

I was in the middle of baking...melting red vanilla chips from Michaels to make vanilla covered oreos. My son Luke ran up to me asking for some "

Candy.

"

I grabbed one of the round little chips and gave it to him and he ran off into the living room to watch cartoons.

About a minute later I hear my 2 month old daughter crying. She was laying in the bouncer in the living room.

I knew my son had ran in there... and I know he

LOVES

and I mean

LOVES

to kiss his baby sister, even if he is a little rough with her.

I thought ok leave her alone!

I proceeded to the living room.

As soon as I turned the corner I saw my son's hands covered red and my daughter's eyes and cheeks

bright red

.

I immediately freaked out and ran over to her.

Oh my goodness it's

BLOOD

!!! (or so I thought)

What did he do to her!!!???

Then my son turned towards me and I saw his face. He had

red circles

over his eyes for

eyeshadow

.

I then looked on the floor and saw the red candy!

What a relief.



He used the red vanilla candy for make up!



I snapped a picture with my phone.





HE WAS TRYING TO PUT EYESHADOW ON HIS SISTER!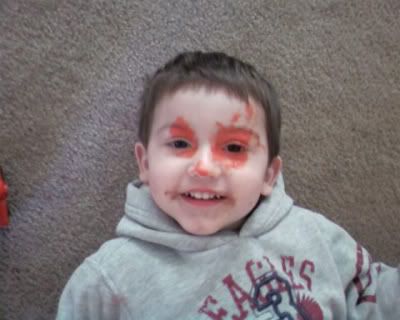 This is his version of eyeshadow. This picture doesn't do my baby justice. He doesn't even look like this!
Here are my babies...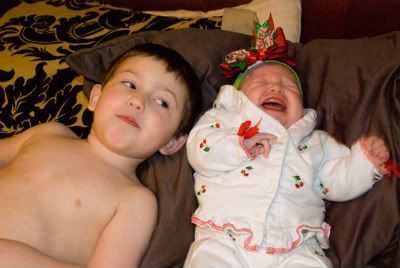 This definitely shows what happens at my house...

Luke

looks mischievous because he was just pestering his sister and

Taylee

is crying because she was being picked on! Kodak moment.. or in my case

NIKON

moment.Gotta love them.